TIBCO Mashery API Developer Blog
TIBCO Mashery is pleased to announce the availability of a new reporting feature, Executive Summary, for those customers currently using the new API Control Center. The Executive Summary is a 1-stop shop for API Metrics designed for sharing with executive leadership and for broadcasting widely to a general audience. The visually intuitive report delivers a high-level view across your API Program and includes new metrics and analytics to drive new business strategies and initiatives. The Executive Summary takes advantage of the latest data visualization techniques to deliver a "showcase-ready" dashboard with specially crafted data-driven narratives across three perspectives, Management metrics, Technical metrics, and Developer/Partner metrics.
A sample screenshot of the Executive Summary in action can be seen below.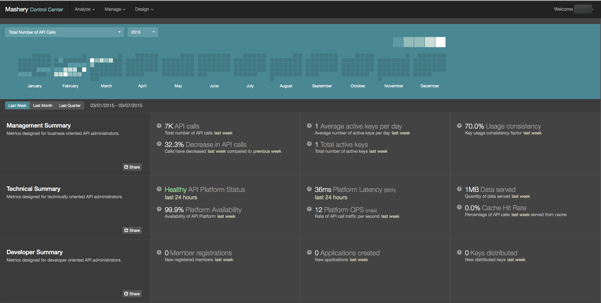 To understand more about how this feature works and how your API program might benefit from this feature, please contact your TIBCO Mashery CPSM or Support for information.