TIBCO Mashery API Developer Blog
We are thrilled to announce, with today's release, that TIBCO Mashery has provided its customers the capability to have their administration users login into the TIBCO Mashery administrative web applications with their enterprise credentials using SAML Single Sign On (SSO). For API providers, sometimes having admins create separate and independent user accounts in the TIBCO Mashery system is counterintuitive to their centralized ID Management and security policies. And it generally is not very efficient for users either: admins have to remember different user credentials from their current corporate ones. SAML SSO for the administration dashboards is part of TIBCO Mashery's broader vision to allow us and our customers to:
Scale and optimize

their organizations daily API management with quick and efficient user approval and provisioning. As a part of Single sign on process, provisioning over SAML allows our customers to create on-demand accounts. We have now simplified scenarios where users need to be dynamically provisioned, by combining the provisioning and single sign-on processes into a single message.

Increase security

by allowing authentication against customer's ID management system. With this feature, we simply check users' corporate credentials using their employer's directory, instead of our own directory and eliminate the need for separate Mashery credentials.

Increase user adoption

: users only need to memorize a single password to access both their enterprise's site and Mashery. Users are more likely to use TIBCO Mashery on a regular basis.

Reduce support costs

and inefficiency. Now, customers don't have to wait for Mashery Admins to approve accounts individually and/or remove users after they have left an organization.
Screenshot of Admin SAML SSO Enabled for API Program Login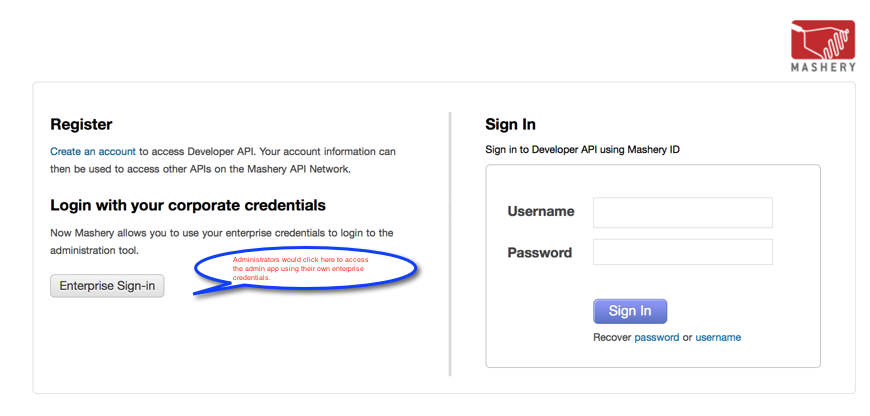 To understand more about how this feature works and how your API program might benefit from this feature, please contact your TIBCO Mashery CPSM or Support for information.